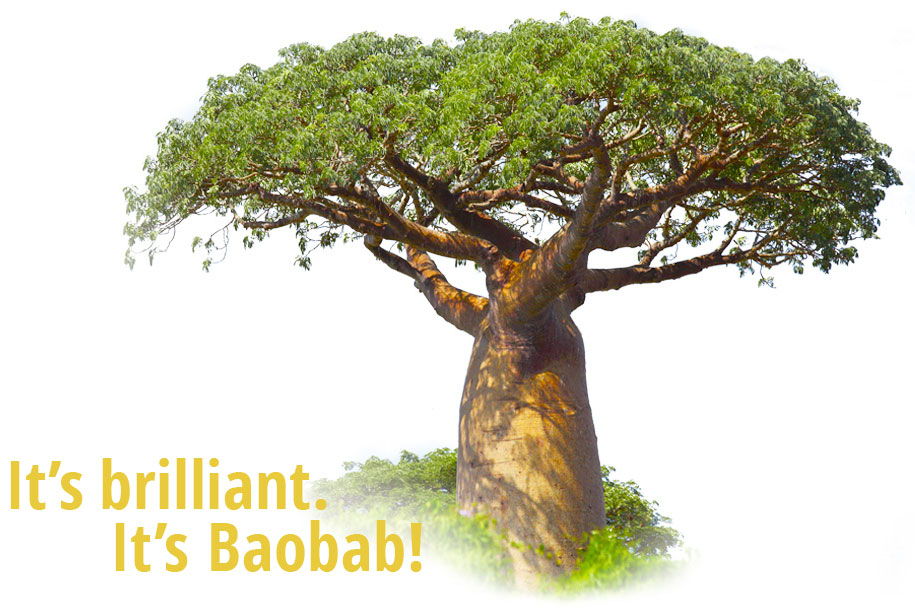 The prehistoric tree with the odd name (say bay-oh-bob) is a dry hair and skin hero. 
The ancient Baobab tree looks like something from a Dr. Seuss tale, and is found in the African Savannah, one of the most arid regions of the world. It's known as 'the tree of life,' not just for how long it lives (thousands of years), but how it survives, and flourishes, in such an extreme, inhospitable climate. It adapts by storing water in its huge, hollow trunk.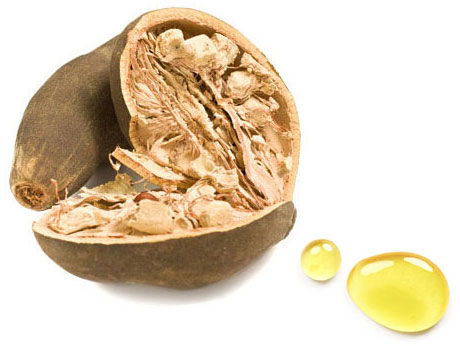 Our superhero hydrating oil comes from the coconut-like seed of this miraculous tree. 
Pure, Organic Baobab oil is easily absorbed into the hair and skin, and ours is cold-pressed to preserve its nutrients and antioxidants. One of the richest, most effective emollients on earth, Baobab Oil is naturally enriched with omega-3 fatty acids to calm and moisturize, and vitamins C and E to protect you head to toe from your harsh environment. Our Baobab seeds are sustainable harvested, directly benefitting local Senegalese communities.
You don't have to live in a faraway desert to damage your delicate hair and skin!
Our products are natural and always paraben, phthalate and sulfate-free!
Sustainably harvested. No animal testing. 
Other wholesome ingredients...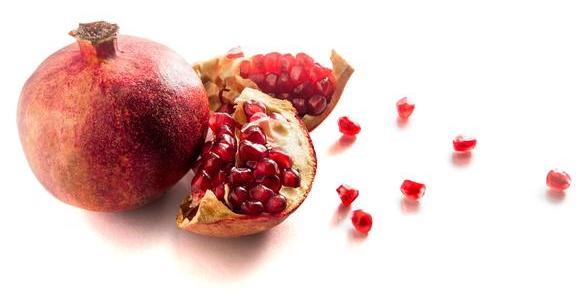 Pomegranate Seed Oil  (Punica Granatum)
Contains powerful antioxidants, anthocyanins, a group of polyphenolic compounds shown to possess higher antioxidant activity than vitamin E.  Has the remarkable ability to nourish, moisturize and repair. 
 
Argania Spinosa (Argan) Kernel Oil
A nutrient-rich, nourishing and emollient oil from the thorny evergreen Moroccan ironwood tree. The tree produces a fruit containing large seeds which are pressed to extract the precious oil. Ironwood trees grow only in Morocco.

Baobab Seed Oil (Adansonia Digitata Seed Oil)
The Baobab Tree is a traditional African tree whose seeds make an oil that is luscious and has a wonderful aroma. Baobab oil is highly penetrating, deeply nourishing for dry hair and scalp. Restores, softens and re-moisturizes. Absorbs easily and quickly. Improves elasticity.

Sweet Almond Oil (Prunus Amygdalus Dulcis)
A super light oil adding softness and shine. Penetrates effortlessly.
 
Vitamin E (Tocopheryl Acetate) & Vitamin C (Sodium Ascorbyl Phosphate)
Excellent anti-oxidant properties. Helps prevent premature aging of hair and protect against UV damage.
 
Retinyl Palmitate (Vitamin A)
An amazingly effective antioxidant. Improves collagen production. Increases flexibility, sheen and body. Improves texture of hair that has been physically or chemically damaged. Easily absorbed. Reduces flaking and restores suppleness, improving the appearance of dry and damaged hair and scalp.
 
Hydrolyzed Vegetable Protein PG-Propyl Silanetriol
A powerful hair-strengthening complex derived from potatoes that dramatically improves the look and feel of damaged hair. Increases moisture retention and reinforces the delicate cuticle.
 
Panthenol
Penetrates the hair shaft to thicken and increase the tensile strength of hair giving it elasticity and resistance to breakage.
 
Sunflower Seed Extract (Helianthus Annus)
Good source of Omega 3 and 6 essential fatty acids that help restructure, protect against UV damage & adds newfound hydration.
 
Cysteine & Cystine Bis-PG-Propyl Silanetriol
Cysteine is an amino acid that strengthens protein structure and aids in the formation of collagen, thus encouraging healthy hair. It is one of the principal components that make up healthy hair. Cysteine also acts as an antioxidant and is a forceful preventative against radiation and pollution. It can assist in reducing the aging process, neutralizing free radicals.
 
Linseed Seed Extract (Linum Usitatissimum)
Also called flaxseed, this oil is a rich source of vitamins A, E, F, Omega 3 fatty acids, B-1, B-2, B-3, B-6, and B-12, and eighteen amino acids. Helps hair maintain the appropriate moisture level, and protects against the elements.

Avocado Oil (Persea Gratissima Oil)
A natural source of Vitamin A, Vitamin K, and Manganese. Softens and protects. Anti-aging benefits.
 
 
Shea Butter
Used for its unrivaled deep moisturizing, nourishing and healing properties. Helps regenerate skin cells and protects skin from sun damage and pollution.

Hydrolyzed Soy Protein, Hydrolyzed Wheat Protein & Hydrolyzed Oat Protein
Strengthens the hair shaft for fuller, healthier hair. Improves gloss and increases moisture retention. Improves manageability and body in hair.
 
Glycerin
Offers excellent moisture balance and brings natural hydration to thirsty, dry hair.

Aloe Barbadensis Leaf Juice
Contains more than 75 nutrients including amino acids, minerals, enzymes, vitamins and sterols. Promotes thick, healthy, conditioned hair. Helps calm frizz and smooth hair.
 
Evening Primrose Oil (Oenothera Biennis)
The rich stores of essential fatty acids in evening primrose oil actually prevent dryness from stealing your hair's shine and luster. Nourishes the scalp too.
 
PEG-40 Hydrogenated Castor Oil
A super light oil adding softness and shine. Penetrates effortlessly for rejuvenating results. Derived from the castor bean (Ricinis communis). Hydrogenated oils are created by a controlled heat process in which the melting point is raised to change the oil into a waxy substance. The hydrogenation process improves the stability and texture of a product.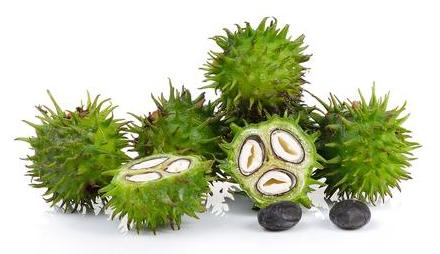 Wheat Amino Acids
Increases the hair's ability to retain moisture and impart shine and gloss to damaged and dull hair. Due to its low molecular weight, wheat amino acids easily penetrate the hair shaft and bind to hair's inner fibers.
 
Olea Europaea (Olive) Fruit Oil
Natural triglyceride olive oil, rich in essential fatty acids including oleic, linoleic and linolenic acids. Olive oil is a natural emollient and contains high levels of antioxidants including tyrosol, which help to prevent free radical formation.
 
Rice Amino Acids
Strengthens and expands the diameter of the hair shaft. High in glutamic and aspartic acid both vital for healthy hair growth.
 
Arginine HCI
Essential amino acid for proper hair growth. It is the metabolic precursor for Nitric Oxide, which is a messenger substance that stimulates hair growth by opening Potassium channels.
 
Pearl Powder
Only in the pearl does a unique combination of natural substances and minerals exist which, when applied topically, smoothes, softens and supples.
What we don't put in our products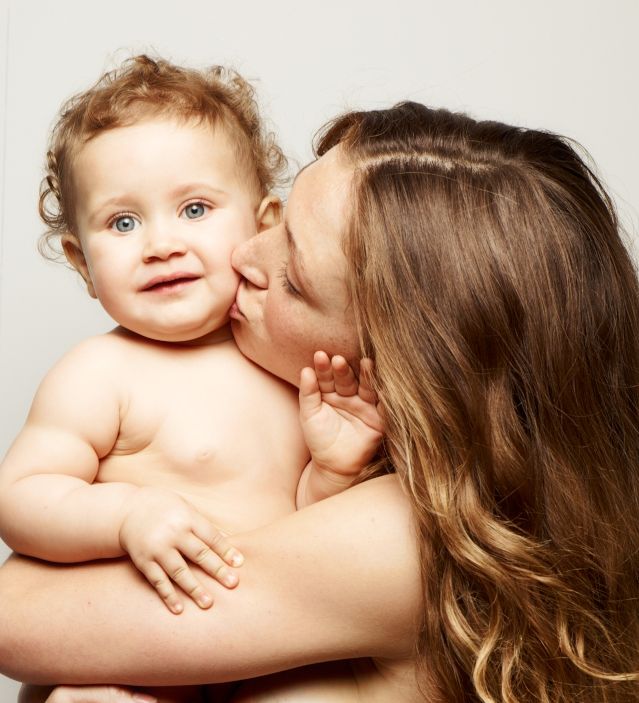 Why do we make a fuss about not using these chemicals? Because we want to give you healthy hair, not cancer.
Did you know that on an average day you use about 10 personal care products containing 126 ingredients — most of those before you even leave the house? Your skin is a super absorber of substances, good and bad, and the products you put on your skin end up in your body.
So here's the skinny:
Parabens: Ick.  They serve as preservatives and although the FDA has determined parabens are safe for skincare products, many scientists and consumers agree they're not a healthy choice. The chemical structure of parabens is so close to that of estrogen that it can fit into estrogen receptors at the cellular level.
Research suggests that this disturbs the endocrine system and leads to breast and other forms of cancer. A 2004 study found high concentrations of parabens in human breast tumors and a follow up study in 2012 confirmed the presence of parabens in 99% of cancerous breast tissue. Free Your Mane uses healthy preservatives.
Phthalates: Feh. Phthalates are used in a variety of common consumer products. Most personal care products that contain phthalates don't even list them on the label. A 2002 report found phthalates in nearly three-fourths of tested products, even though none of the 72 products had phthalates listed on the labels.
Two decades of research suggest that phthalates disrupt hormonal systems, causing proliferation of breast tumor cells as well as rendering anti-estrogen treatments, such as tamoxifen, less effective against tumors. The two large cosmetic companies are just now starting to remove phthalates from their products, trying to catch up with what Free Your Mane has known all along.
Sulfates: Blech.  The most commonly used sulfates are harsh detergents that strip your skin's moisture barrier, which is linked to immunity and disruption of skin health, in addition to associated dry, itchy skin. What's more — they actually rob your hair of natural oil so you have to compensate with extra conditioners. Oh, they also wash out your expensive hair color.
When sodium lauryl sulfate is used in shampoos and cleansers containing nitrogen-based ingredients, it can form carcinogenic nitrates that can enter the blood stream, causing eye irritations, skin rashes, hair loss, flaky scalp similar to dandruff, and allergic reactions.
We are committed to your health and the health of our environment —  so why not free your mane of unnecessary chemicals? I wouldn't expose my family to these chemicals so I wouldn't expose yours either.